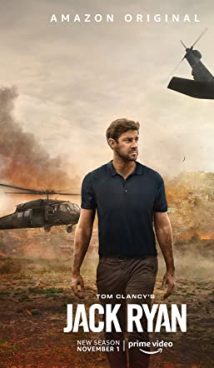 TV-MA
01 hours 00 minutes
Synopsis
What can make a CIA office worker throw away a comfy chair and start fieldwork? That's right, your own country's security. A simple guy, Jack Ryan, has neither fantastic powers nor the super professional training. He is just a patriot of his homeland and is allowed to prevent a massive terrorist attack against America.
Interesting Facts
Both seasons of Jack Ryan were filmed for the Amazon Prime streaming platform. Viewers all over the world can watch them there. Jack Ryan's first season premiered on Amazon Prime on August 31, 2018, and the second one was released on October 31, 2019.
Jack Ryan is renewed for the third season, the release date of which is still unknown, because of the coronavirus pandemic.
The scenes from the second season of Jack Ryan, which are set in Venezuela, were actually filmed in Colombia. In addition to this South American country, the second season was filmed in New York, London and Moscow.
The Jack Ryan adventure franchise is global. In addition to the series, it includes five movies, three video games, and thirty-one novels.
Before John Krasinski, Jack Ryan was portrayed by Alec Baldwin (The Hunt for Red October, 1990), Harrison Ford (Patriot Games, 1992 and Clear and Present Danger, 1994), Ben Affleck (The Sum of All Fears, 2002) and Chris Pine (Jack Ryan: Shadow Recruit, 2014). Interestingly, Chris Pine's father, Robert Pine, played the father of John Krasinski's character in The Office.
Information
This is an American action thriller TV-series based on Tom Clansy's book series.
The premiere of the second season took place on October,31, 2019, on Amazon Prime.
More Like This
The Americans
Hunters
Homeland
Berlin Station
Tags: CIA, USA, intelligence, terrorist attack, Europe, Middle East, John Krasinski