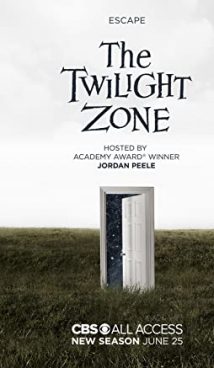 TV-MA
01 hours 00 minutes
Synopsis
A new relaunch of the series that has shaped sci-fi on the television as we know it.
The new reboot of the classic anthology was directed by Jordan Peele, who a couple of years ago became famous for the films Us and Get Out. In the new Twilight Zone, Peel is not only a scriptwriter and director but also the narrator.
Each episode of Twilight Zone is a short and complete sci-fi story that has nothing to do with other episodes. One thing unites them is a fantasy about what happens to a person if something incredible happens in their life.
Interesting Facts
This is the third attempt to revive the famous television epic. If the first attempt was released in the 80s and lasted for three seasons, the second was released in 2002 and had only 22 episodes. The original Twilight Zone was shown from 1959 to 1963 and had as many as 156 episodes.
Many directors and producers tried to return the series to the screens again, from Brian Singer to Leonardo DiCaprio, but only Jordan Peele succeeded.
Jordan Peele's business is going uphill now. After getting an Oscar for Get Out and nominations for BlacKkKlansman, Peele is one of the top TV producers now. After Twilight Zone, in August, there will be the premiere of his next project, the horror Lovecraft Country about black travelers' struggles with racists and other monsters. Peele also wrote the script for the horror Candyman's reboot, which is set to premiere in October this year.
 Information
This is an American-made social sci-fi TV-series.
The premiere of the second season took place on June 25, 2020 on the CBS All Access channel.
FAQ
What channel is behind the series production?
Both seasons of the new Twilight Zone were filmed for the American TV-network CBS All Access.
Will there be a continuation?
Jordan Peele have not given any clear information about Twilight Zone's future.
More Like This
Black Mirror
Electric Dreams
Amazing Stories