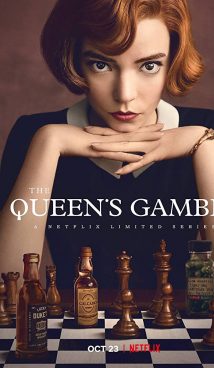 Synopsis
This television series is a screen version of the novel by Walter Tevis, which tells about the genius chess player Beth Harmon (Taylor-Joy), who showed intellectual abilities for this game at the age of eight. However, developing her abilities and growing up, Beth simultaneously acquires a whole heap of problems – all kinds of addictions and general disorder of life. So, will all these problems stand in the way of achieving the title of grandmaster?
Interesting Facts
The Queen's Gambit all episodes will be released on October 23, 2020 and will be all available for viewing on the Netflix streaming platform.
The TV series was based on a 1983 book by Walter Tevis. This project is the fourth adaptation of Tevis's novels – in total, he wrote a series of six novels. Paul Newman starred in 1961's "The Hustler" and also in "The Color of Money", the sequel filmed in 1986. It is noteworthy that "The Man Who Fell to Earth", another film adaptation of the novel by Tevis, is a movie in which David Bowie began his acting career.
The first rumors about a possible adaptation of "The Queen's Gambit" appeared immediately after it was released. Although the script rights were bought by Allan Scott in 1992, it wasn't until 2008 that The Queen's Gambit really came close to being filmed with Ellen Page playing the main character and directed by Heath Ledger. However, after the actor tragic death, the project was once again frozen. The new miniseries is based on a script by Alan Scott.
Anya Taylor-Joy, one of Hollywood's most promising actresses, plays the chess player Beth Harmon. After a successful acting work on "The VVitch: A New-England Folktale" horror film, she receives offers from major film studios one after another. Although she still has a lot of work ahead, "New Mutants" starring Anya premiered in early September. However, the last part of the "X-Men" franchise has been called the worst by film critics.
About
The Queen's Gambit is an American-made TV series based on the drama novel of the same name by Walter Tevis. The first season will premiere on October 23, 2020 on the Netflix streaming platform.
Related Shows
The Crown
Trinkets
Teenage Bounty Hunters
Tags: film adaptation, chess, character, addiction