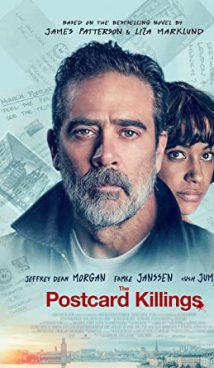 Not Rated
01 hours 44 minutes
English, Swedish, Russian, German, French

5.7
Synopsis
A newly wedded couple was killed in London in the pink of their honeymoon. Jacob Canon, a father of the killed woman, is New York detective. Being in sackcloth and ashes, he flies to the UK and tries to find his daughter's killer. It turns out that this is not a singular event. Someone hunts young couples throughout Europe and sends museum postcards to some journalists alluding to the crime before the murder. Each crime scene reproduces a well-known picture.
Interesting facts
A Bosnian director of The Postcard Killings received Oscar Award for Best Foreign Language Film in 2002 for his No Man's Land shot twenty years ago.
The leads are played by following actors distinguished themselves by acting generally in TV series: Jeffrey Dean Morgan as blood-thirsty Negan in The Walking Dead and Cush Jumbo, a star of The Good Fight. By the way, the actors worked together in The Good Wife TV series.
Initially, Patrick Dempsey and Dakota Fanning should play the leads in The Postcard Killings.
The film is shot on the basis of the similarly-named detective novel by American author James Patterson and Swedish writer Liza Marklund, a literary giant duo.
Information
The joint British and American-made film is based on the similarly-named detective novel by James Patterson and Liza Marklund and shot in the thriller genre.
The Postcard Killings had its world premiere on March 13, 2020.
FAQ
When had the film its premiere in the world?
The Postcard Killings was released in the USA on the Internet without theatrical distribution on March 13, 2020.
The main part of The Postcard Killings was shot in London, Stockholm and Norway.
Related Films
The Night Clerk
The Snowman
The Host