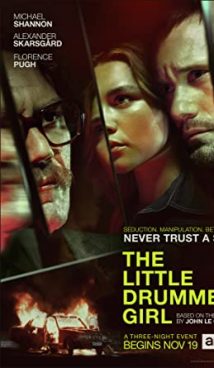 Synopsis
Charlie Ross, a young British actress and a difficult girl, caught the interest of the Israeli special services. No, she is not a criminal or a terrorist. But the Mossad sees Charlie as someone who can help resolve the Palestinian question.
Israeli agents ask Charlie to do what she does best — to play the role. Now she is the former lover of a Palestinian terrorist, and the Mossad wants to infiltrate her in the ranks of the people organizing the bombings in Europe against the Israelis.
Interesting Facts
The Little Drummer Girl premiered October 14, 2018, at the London Film Festival, and two weeks later, the first episode of the series was shown on BBC One.
The Little Drummer Girl is based on the novel by the English writer John le Carré. The author's specialty lies in spy thrillers and many of his works have already been adapted for the big screens. Among the latest screen adaptations of le Carré, it is worth remembering A Most Wanted Man, The Tailor of Panama, and The Constant Gardener, as well as The Night Manager TV-series.
Interestingly, this is not the first screen adaptation of The Little Drummer Girl: in 1984 the movie of the same name was released where the role of actress Charlie was played by Diane Keaton.
The leading role in the series is played by Florence Pugh, who is rightfully considered one of the most talented young actresses in Hollywood. In 2020, she was already nominated for an Oscar for her role in Little Women. Interestingly, she has already been caught in the MCU network: in the film Black Widow she played the role of agent Elena Belova. Rumor has it that Florence impressed the bosses of Disney with her performance so much that they suggested that she continue to participate in the MCU in the form of the new Black Widow, replacing Scarlett Johansson.
All episodes of The Little Drummer Girl were directed by South Korean director Chan-wook Park, who in 2003 amazed the whole world with Oldboy.
Information
This is a British-American crime thriller TV-series based on the John le Carré's novel of the same name.
The premiere of the first season took place on October 28, 2018 on the British TV-channel BBC One and the American AMC.
More Like This
The Night Manager
The Capture
Berlin Station
Tags: politics, 1970s, drama, crime, thriller, terrorism, Mossad, Palestine, Florence Pugh, Alexander Skarsgård