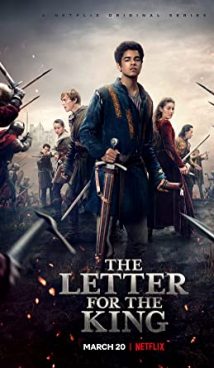 Synopsis
A short series about different knights and magic for secondary school age.
Tiuri, a teenage squire, accidentally encounters a dying knight, who orders him to transmit a mysterious letter to the king of Unawen. Fulfilling the promise made to the knight, Tiuri does not even suspect how this journey will change his life and the lives of magical world inhabitants.
During his adventures, Tiuri will meet true friends, face betrayal, see real magic and save the kingdom, needless to say.
Most likely, The Letter for the King series will not make a proper impression on the adult audience, but teenagers may like it.
Interesting facts
The literary source of The Letter for the King is the similarly-named novel by the Dutch writer Tonke Dragt. The novel was first published in 1962 and over 50 years it has been translated into the majority of European languages. Besides, it has withstood more than 50 reprints. In the Netherlands, The Letter for the King is a classic teenage novel included in the school curriculum.
In accordance with the tradition, the shooting of the fantasy series took place in New Zealand and the Czech Republic.
Andy Serkis, who once presented his plastic and facial expressions to Gollum, also performed a role in this series. However, this is not the only Serkis in the series. The daughter of his character in the series is his daughter in real life. Ruby Serkis began her film career with the role of the hobbit and now she has a great future, according to critics.
Amir Wilson, the leading man, is familiar with fantasy firsthand. Now, he is starring in the film adaptation of His Dark Materials cycle by Philip Pullman.
Information
The British-made TV series is based on the similarly-named fantasy novel by Tonke Dragt.
The first season premiered on March 20, 2020 on the Netflix streaming platform.
You can watch the series trailer online on the website without registration. You can also find interesting facts about the series.
FAQ
What channel is producing the series?
The Letter for the King was commissioned by Netflix.
Will there be a sequel?
Netflix has not yet announced the extension of the series.
Related Series
The Witcher
Vikings
Locke & Key
Tags
fantasy, knights, magic, film adaptation, battles, magic world