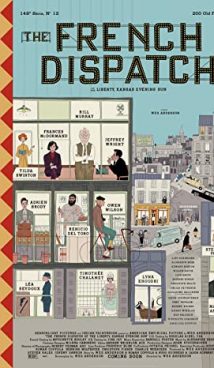 Synopsis
The French Dispatch — Wes Anderson's latest film — is a tribute to journalists in general and to The New Yorker magazine in particular. The film is about a made-up American weekly magazine based in the fictional French town of Ennui-sur-Blasé. Apparently, The French Dispatch is going to be an American story of journalism set in France countryside, with the storyline being split into three parts — each full of high-profile celebrities. In fact, The French Dispatch mostly stars Wes Anderson's favourites.
Did you know?
The French Dispatch is set in the fictional French town of Ennui-sur-Blasé depicted by the French provincial town of Angoulême near Bordeaux.
The French Dispatch's poster drawn by the artist Javi Aznarez shares a lot of its bearing with The New Yorker magazine and was revealed on February 11, 2020, one day before the film trailer was released.
The French Dispatch's cast includes eight Oscar-winning actors: Kate Winslet, Benicio del Toro, Adrien Brody, Tilda Swinton, Anjelica Huston, Frances McDormand, Fisher Stevens and Christoph Waltz.
Overview
The French Dispatch is an American-German co-production comedy-drama film. It will be released worldwide on October 15, 2020.
Please visit our website to watch The French Dispatch trailer online and check out interesting film trivia and a release date. No signup required.
Frequently asked questions
When will the film have its world premiere?
The French Dispatch was scheduled to release worldwide on July 24, 2020 but due to COVID-19 pandemic was pushed back to October 15.
Who wrote the film score?
The film score was written by the composer Alexandre Desplat who won the Oscar for his musical scores to Wes Anderson's The Grand Budapest Hotel.
See also
The Grand Budapest Hotel
Moonrise Kingdom
The Darjeeling Limited