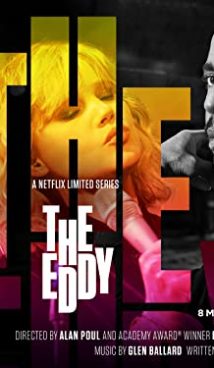 Synopsis
Former pianist Elliot (André Holland) moves to Paris and acquires a stake in a local jazz club. He remains to live in the capital of France, gradually acquiring the music bar managing skills. With the appearance of his daughter, Elliot's established way of life is completely violated – Julie, with her impulsive nature, turns everything she touches into a whirlpool.
Starting as a musical drama, the series gradually mutates, becoming either a crime thriller or a detective story. In the center of the story, there is jazz that flows through the Parisian streets, avoiding the sights of this city. In "The Eddy" series, Paris is a unique mix of people, cultures and aspirations.
Interesting Facts
Damien Chazelle, co-executive producer of "The Eddy", is also known for directing the acclaimed Oscar-winning films "Obsession" and "La La Land". In addition, "The Babylon", Damien Chazelle's new film starring Emma Stone and Brad Peet, will be released next year – a project unlikely to miss an Oscar.
Jack Thorne, English screenwriter and playwright, is the showrunner for "The Eddy". Starting with the low-budget "Skins", he is now working on the adaptation of Philip Pullman's Golden Compass series of novels (season two this winter!), the most expensive BBC television series. Thorne has won 5 of 9 BAFTA nominations.
All musical compositions in the series were performed and recorded right on the set.
About
"The Eddy" is a British TV series co-produced by Netflix and directed by Damien Chazelle. The premiere of the first season took place on May 8, 2020 on the Netflix platform.
F.A.Q.
Q: Which channel is producing the series?
A: "The Eddy" was filmed for the Netflix streaming platform.
Q: Will this series be renewed?
A: "The Eddy" is a non-sequel miniseries.
Related Shows
Too Old to Die Young
Little Voice