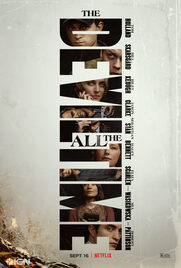 Synopsis
The Devil All the Time shows a small town in Ohio. The lull between World War II and the Vietnam War becomes a stressful time when people begin to show their darker sides. Arvin (Tom Holland), the main character in the film, at his every step is faced with the terrible manifestations of the destructive behavior of the people around. The tragic fate of his parents, a corrupt sheriff, a dangerous priest and a couple of serial killers – all this becomes a difficult test of strength for Arvin. At some point, the viewer even doubts whether the main character will be able to overcome all these trials that his fate threw him.
Interesting Facts
Chris Evans was originally slated for the role of Bodeker Lee. However, due to the tight schedule of the actor, Sebastian Stan was invited to take his place. In fact, the Winter Soldier replaced Captain America.
Funnily enough, the plot revolves around the confrontation between Arvin (Tom Holland) and the Reverend Preston Tigardin (Robert Pattinson), aka Spider-Man vs Batman.
Jake Gyllenhaal, Tom Holland's opponent in the final installment of Spider-Man, is one of the executive producers of The Devil All the Time.
Antonio Campos, the film's director who also co-wrote the script. Campos has been nominated twice for the Cannes Film Festival award with his The Alumni movie starring Ezra Miller.
The Devil All the Time is an adaptation of the novel of the same name by Donald Ray Pollock. Introduced to the world in 2011, the book won several literary awards and became a bestseller. Donald Ray Pollock, the author of the novel, took part in the film adaptation – viewers can hear his voiceover.
About
The Devil All the Time is an American-made film, the adaptation of the psychological thriller novel of the same name by Donald Ray Pollock. The world premiere of the "The Devil Forever" will take place on September 16, 2020 on the Netflix streaming service.
Related Films