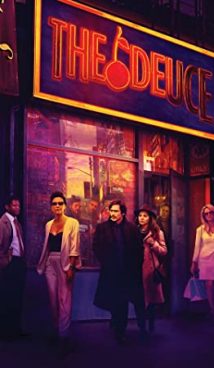 TV-MA
01 hours 00 minutes
Synopsis
This series is a shot of New York City in the seventies and eighties. A real epic, through the eyes of dozens of living people, telling about bars and dens, brothels and massage parlors, prostitutes and pimps. However, the main plot thread is the formation and development of the porn business. The Deuce is intended for an adult audience, but not only with the theme and depiction of nudity. This is a very complex and sometimes difficult to understand story about the simplest people who at that time lived in the great city.
Interesting Facts
Deuce was filmed for the American TV channel HBO, where it was for three years, from 2017 to 2019. From the very beginning, The Deuce was planned for three seasons and finished by the showrunners, and not at the request of the channel.
The Deuce is the nickname for 42nd Street, located in central Manhattan. Times Square divides this city artery in two, and its western half has always had a lot of hot spots. This part of 42nd Street became the main character of The Deuce TV-series.
For the role of prostitute Candy-turned-porn director Maggie Gyllenhaal (sister of actor Jake Gyllenhaal) was nominated in 2018 for a Golden Globe but lost to Elizabeth Moss.
One of The Deuce showrunners, David Simon, is famous for his unhurried series, which concentrate not on complete storylines but on trying to convey the whole picture, with numerous characters and a reliable atmosphere. In particular, Simon created The Wire, HBO's jewel, and, according to many critics, the best series in television history.
Information
This is an American historical drama TV-series.
The premiere of the first season took place on August 25, 2017
More Like This
Tags: drama, history, 1970s, 1980s, prostitution, porn industry, New York, James Franco