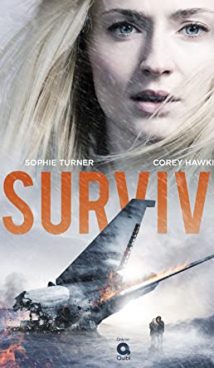 Synopsis
Depressed Jane (Sophie Turner) is discharged from a psychiatric hospital and gets on a plane to visit her relatives. In the air, she decides to leave this life and is going to drink all the sleeping pills that she has. However, the universe has completely different plans for Jane, and before she kills herself, the plane will crash and fall on a snow-capped mountain. Only Jane and the other passenger Paul (Corey Hawkins) will survive.
It is Paul who will be able to prove her that life is worth fighting for. Together they will go in search of civilization, fighting the weather, nature and their inner demons.
Survive is one of the flagships of the new Quibi mobile content service, whose new format involves short 10 minute episodes and the ability to view through the application on a smartphone.
Interesting facts
This is the second series with Sophie Turner. The previous one is the cultural phenomenon Game of Thrones, where she played Sansa Stark.
Survive is the flagship project by new Quibi service, which was launched on March 6, 2020. The second major project of the platform is The Most Dangerous Game with Liam Hemsworth, the first series of which became available also that day.
Turner said she was interested in acting in Survive not just because of Jane's character fighting for her life she hadn't appreciated before; Sophie considers the attempt to captivate the audience in 10 minute series to be a challenge for herself as an actress.
Information
The American-made TV series is based on the similarly-named novel by Alex Morel and shot in the thriller genre.
The first season premiered on April 6, 2020 at the Quibi service.
You can watch the series trailer online on the website without registration. You can also find interesting facts about the series.
FAQ
What channel is producing the series?
Survive was commissioned by the Quibi streaming platform.
When did the first season come out?
The entire first season is available on the service from April 17, 2020.
Will there be a sequel?
The producers are silent for a possible extension of the series.
Related Series
The Most Dangerous Game
Sharp Objects
Game of Thrones
Tags
thriller, survival, nature, plane crash, depression, mental illness