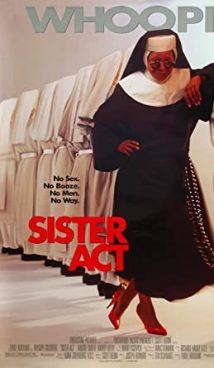 Synopsis
Singer Deloris Van Cartier was in the wrong place at the wrong time. She not only found out that her lover is a criminal element but also saw him at the crime scene.
Now Deloris is on the run, and the police hide her in a real monastery. The singer is now called Mary, and she cannot sit idle. The monastery choir becomes the object of her stupid activity, and now the sisters in robes sing rock and roll, disco, and various stage music.
Interesting Facts
The release of Sister Act took place on May 29, 1992.
The success of the film was incredible, and a year and a half later, a sequel came out, ingeniously titled Sister Act 2: Back in the Habit. Whoopi Goldberg plays the lead role again, and future star Jennifer Love Hewitt appears in the background.
Now the Disney Corporation, which owns the rights to the film, is working on a trequel. The script is being written, and Whoopi Goldberg even stated that she could direct it. Interestingly, Disney is also thinking about relaunching Sister Act.
In 2006, a musical based on the film Sister Act premiered in Los Angeles. The production was a success, and eventually, it moved to West End and Broadway. Since then, the musical has been released in Vienna, Milan, Madrid, Canada, Brazil, and Japan.
The role of the Mother Superior of the monastery was played by British actor Maggie Smith, who won two Oscars back in the 1970s. In the new millennium, Smith's career got a second wind when the actor starred in the Harry Potter franchise and the cult TV-series Downton Abbey.
Information
This is an American crime comedy film.
The world premiere of Sister Act took place on May 29, 1992.
More Like This
Sister Act 2
3 Men and a Baby
Father of the Bride
Mrs. Doubtfire
Tags: comedy, crime, disguise, music, nuns, monastery, Whoopi Goldberg