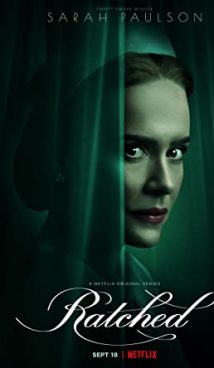 Synopsis
The king of postmodern TV-series Ryan Murphy returns to the small screens with something that has every chance of becoming the Fall 2020's main TV-show.
Ratched will be a kind of prequel to both the movie and the novel One Flew Over the Cuckoo's Nest, a story about how a nurse turned from a young assistant to a cruel monster that controls an entire mental hospital.
Ryan Murphy has chosen his muse, actress Sarah Paulson, to portray the main character, and brought Sharon Stone, Cynthia Nixon, and Corey Stoll to the mix.
Interesting Facts
In 2003, the American Film Institute compiled its rating of the main villains to ever appear in films. In this list, Sister Ratched from One Flew Over the Cuckoo's Nest is ranked fifth, following only Hannibal Lector, Norman Bates, Darth Vader, and the Wicked Witch of the West (from The Wizard of Oz). Interestingly, all of them (except Darth Vader) have appeared in different TV-series over the past ten years. By the way, the actress Louise Fletcher, who played the sister Ratched in the classic 1975 film, got Oscar and Golden Globe awards for the role.
This is not the first appearance of the Ratched character on a TV-series. In Once Upon a Time, actress Ingrid Torrance has portrayed the villainess.
TV-series Ratched is a product of the collaboration of two TV-producers. Evan Romansky wrote the script, and Ryan Murphy fought for over a year to get the rights for the main character. Several streaming platforms fought for an exclusive screening, and eventually, Netflix left Apple and Hulu behind.
By the way, Netflix has ordered two seasons of Ratched immediately, so there is no question whether there will be a continuation.
All Netflix subscribers will be able to watch the full first season of Ratched on September 18, 2020.
Information
This is an American-made drama TV-series influenced by the movie and novel One Flew Over the Cuckoo's Nest.
The premiere of the first season will take place on September 18, 2020 on the Netflix streaming platform.
More Like This
Hollywood
American Horror Story
Bates Motel