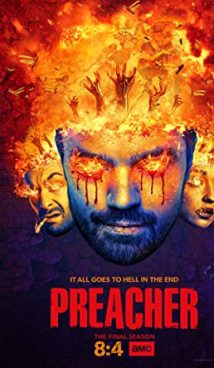 TV-MA
01 hours 00 minutes
Synopsis
The Genesis creature, the result of the intercourse of a demon and an angel, quite unexpectedly chooses the body of Jesse Custer, in the past a criminal, and now a preacher. Now, possessing incredible power as a Genesis bearer, Jesse can grant any his own wish. However, the very fact of having unlimited opportunities in the hands of a person with a dark past endangers all the people around him. In addition, other supernatural entities who yearn for the power of Genesis are on the heels of Jesse. Fortunately, the preacher has supporters in the person of Tulip O'Hare, his girlfriend and accomplice, as well as Cassidy, an Irish vampire suffering from alcohol and drug addiction.
Interesting Facts
The first episode of Season 1 was released on May 22, 2016 on the American channel AMC. Enjoyed by both viewers and critics, the TV show has been renewed several times. Held on air for four seasons, "The Preacher" was canceled on September 29, 2019 with the release of its final episode under the eloquent title "End of the World."
The original comic strip, the eponymous literary source on which the new TV show is based, was released from 1995 to 2000. Rumors of a possible film adaptation began to appear since the release of the first issues. While "The Preacher" could have become a TV movie, a TV series commissioned by HBO, or a Sam Mendes blockbuster, every time something got in the way of every TV project.
Dominic Cooper (Preacher Jesse Custer) and Ruth Negga (Tulip O'Hare) were a real-life couple until 2016 when they separated. However, this news only leaked to the press two years later.
About
The Preacher is an American-made fantastic tragicomedy TV series based on the comics published by Vertigo. The first season of the TV show was premiered on May 22, 2016 on the American AMC TV channel.
Related Shows
Brassic
The Umbrella Academy
Legion
American Gods
Penny Dreadful: City of Angels
Tags: black comedy, fantasy, horror, mystic, comic, film adaptation, Dominic Cooper