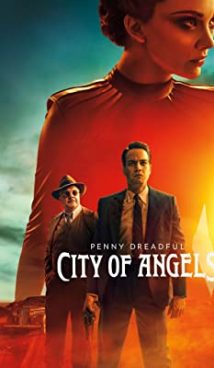 Synopsis
Los Angeles, 1938, The Golden Age of Hollywood. Stylish and dangerous time. The first freeways are being built, agents of the Third Reich are snooping around somewhere, and the tension of two supernatural sisters is growing in the city. On the one hand, Santa Muerte (Lorenza Izzo), the divine nature of death and the patroness of the dead. On the other hand, the demoness Magda (Natalie Dormer), which is a threat to all people. Together with all this sultry craziness, two detectives are investigating a mysterious murder.
This series is a kind of spin-off of the successful TV show Penny Dreadful with Eva Green and Josh Hartnett. Although two series are not plot-related, the new show inherits the atmosphere and suspense of its predecessor.
Interesting facts
British actor Rory Kinnear appears in both series. However, if in Penny Dreadful he plays the role of the Frankenstein monster, then in the spin-off he is the Nazi doctor Peter Craft.
Two series has not only one and the same show runner John Logan. The Spanish director Paco Cabezas shot the last episode of Penny Dreadful and the first episode of City of Angels.
The star of the show is British actress Natalie Dormer, better known as Margaery Tyrell from the Game of Thrones. In Penny Dreadful: City of Angels she plays the role of Magda, a dangerous demoness.
Information
The American-made TV series shot in the horror genre. It is a spin-off of the Penny Dreadful TV show.
The first season premiered on April 23, 2020 on the Showtime channel.
You can watch the series trailer online on the website without registration. You can also find interesting facts about the series.
FAQ
What channel is producing the series?
Penny Dreadful: City of Angels was commissioned by the Showtime channel.
Will there be a sequel?
The showrunner of the series has not yet made statements regarding the continuation of the series.
Related Series
Penny Dreadful
The Alienist
Hollywood
Tags
drama, horror, fantasy, mythology, demons, Los Angeles, 30s, Hollywood, death