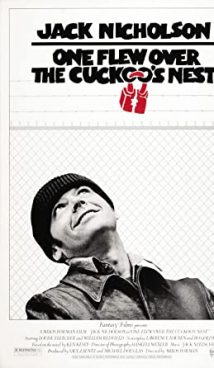 Synopsis
McMurphy, a new psychiatric patient, came here for an unknown reason – either he really has mental health problems or is trying to escape jail time.  Freedom-loving and brash, McMurphy immediately comes into conflict with nurse Ratched, who controls the department, and probably the entire hospital.
Interesting Facts
"One Flew Over the Cuckoo's Nest" movie premiered on November 19, 1975 in the United States.
A classic of world cinema, this film is included in the top 20 best films in history according to the IMDB website. The recipient of numerous prestigious awards, it has also received five Academy Awards for Best Picture, Director, Screenplay, Actor and Leading Actress. With five Oscars in the nominations listed, this film is the second in history to make it into the Big Five (previously only "It Happened One Night", 1935). "The Silence of the Lambs" is the third film to reach such heights – since then no film can boast of such achievements.
The film starred not only actors, but also real patients of a psychiatric hospital. Dean R. Brooks, a real psychiatrist, played the role of Dr. John Spivey.
Ken Kesey, author of the "One Flew Over the Cuckoo's Nest" novel, was unhappy with the movie. One of the most disappointing moments in the film, according to Ken, is the lack of a voiceover narrator of which the patient, nicknamed "Chief", is in the book.
Louise Fletcher, a wonderful actress, played the role of nurse Ratched. It is noteworthy that this character is considered one of the main villains of world cinema. TV Producer Ryan Murphy has presented a multi-part story of the rise of the tyrant, available to watch on Netflix since 2020. The "Ratched" TV series has become one of the most watched TV shows of 2020.
About
One Flew Over the Cuckoo's Nest is an American-made film based on the psychological drama novel of the same name by Ken Kesey. The movie premiered on November 19, 1975.
Related Films
Ragtime
Amadeus
Silence of the Lambs
Tags: drama, film adaptation, mental hospital, classic, Milos Forman, Jack Nicholson