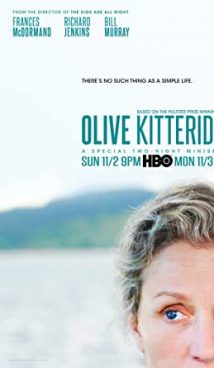 TV-14
03 hours 59 minutes
Synopsis
Despite the intriguing translation of the name (although the original is just "Olive Kitteridge"), no mysteries or secrets of a small city await us in the series. It's just that Olive Kitteridge, the heroine of the series, knows life and how everything works.
A short mini-series (four episodes in total) is a story about the 25-year life of an inhabitant of a small town in Maine. No murders are creating all the drama or any mystery. Years pass before us; the townspeople change, Olive Kitteridge, who knows something about life, stays the same.
We are waiting for a smooth and insanely touching story, adorned with a beautiful acting ensemble crowned by the leading singer Francis McDormand.
Interesting Facts
The series "Olive Kitteridge" was nominated for three Golden Globe awards but did not receive a single one, but it became triumphant at Emmy, grabbing eight statuettes. Actors Francis McDormand, Richard Jenkins, and Bill Murray did not leave without awards.
In 2019, the novel by Elizabeth Strout, "Olive Again," the sequel to the series's literary source was published. Nobody knows whether it's gonna be filmed.
The showrunner of the series is Lisa Kholodenko, an American director with Ukrainian-Jewish roots. She learnt from Milos Forman himself and specialized in acutely social dramas. Last year, by the way, Kholodenko released the series "Unbelievable" about the investigation of serial rape, very warmly received by critics.
Information
An American-made television series is based on the novel of the same name by Elizabeth Strout.
The first season premiered on September 1, 2014, on HBO.
FAQ
What channel is producing the series?
Mini-series was shot for the American television channel "HBO."
TV show "Olive Kitteridge" was released in the format of a "mini-series," which did not involve continuation initially. Now that the writer Elizabeth Strout has released the sequel to the series, we are waiting for the showrunner Lisa Kholodenko and the HBO bosses to say something.
Related TV shows
Mildred Pierce
Treme
Unbelievable