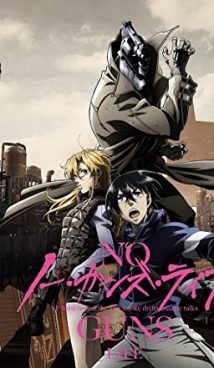 Synopsis
The story carries us to the near and not very bright future. Many Extends, ex-people whose bodies have been altered for combat activity, remained in the world after the last global war.
Juuzou Inui, the main character of No Guns Life, has a huge gun instead of his head. He hardly remembers his past and has no idea how he became a cyborg. Juuzou is a private detective handling the Extends' problems, but his quite life was over when a paralyzed young fellow Tetsurou sucked him in a dreaded story relatable to experiments on kids.
Interesting facts
No Guns Life inspired by the similarly-named manga, which has been publishing by Shueisha since August 2014. Today, it includes 10 volumes.
The first twelve episodes were released within the period from October 11 to December 27, 2019. The other half of the season should be released on April 9, 2020, but its premiere was for the time being rescheduled for July due to coronavirus epidemic.
In the latest twelve episodes the theme music is changed. Sawano Hiroyuki will open each episode and the THIS IS JAPAN rock band will sound at the end.
Information
The Japan-made anime inspired by the similarly-named manga is shot in the fantastic thriller genre.
The first season premiered on October 11, 2019.
FAQ
Madhouse Inc. animation studio is responsible for anime production.
The release of the second half of the season is scheduled at this point. The further plans for the No Guns Life anime are not yet known.
Related Series
Fire Force
Hataage! Kemono Michi
Mugen no Junin Immortal