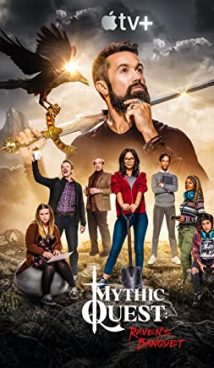 Synopsis
This is a new comedy series by the creators of the extremely popular TV show titled It's Always Sunny in Philadelphia.
We find ourselves in a studio of computer game developers working on a very important project. In a few weeks, the Raven's Banquet add-on should be released for the super popular online Mystic Quest game, and absolutely fewer than all is ready and in order.
A witty comedy goes through not only the lifestyle of Silicon Valley or the strange world of video games and their developers, but also at some point begins to talk about pop culture in general with humor and even love.
Interesting facts
Rob McElhenney, the main showrunner of Mythic Quest, not only wrote the script, but also played the main role of the eccentric author of the game, Ian. By the way, the character is copied from the founder of the Riot Games Company, which presented the world with the super popular League of Legends video game.
Ubisoft Entertainment, a French video game developing company, assisted in the series implementation.
Information
The American-made TV series shot in the comedy genre.
The first season premiered on February 7, 2020 on the Apple TV Plus platform.
You can watch the series trailer online on the website without registration. You can also find interesting facts about the series.
FAQ
What channel is producing the series?
Mythic Quest: Raven's Banquet was commissioned by the Apple TV Plus streaming platform.
Will there be a sequel?
Yes, the series has already been officially extended for the second season.
Related Series
Dickinson
Avenue 5
It's Always Sunny in Philadelphia
Tags
comedy, developers, computer games, quests, strategies