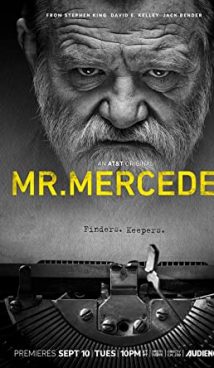 TV-MA
01 hours 00 minutes
Synopsis
The life story of Bill Hodges, a former police officer, continues.
The case of Brady Hartsfield, a maniac who killed dozens of people, is over, and he will no longer stand trial and get new glory.
However, something prevents Hodges from sleeping well. He cannot sit still without a new case.
Meanwhile, in the town where the TV-series takes place, a terrible thing happens: John Rothstein, the great American writer, is shot in bed. Not only money disappeared from the house of the murdered man, but also Rothstein's diaries, in which there may be his last novel.
A bloody struggle begins for the legacy of the writer, whose work is immensely loved by Bill Hodges himself.
Interesting Facts
The third season of Mr. Mercedes was shown on the American channel Audience from September to November 2019. In early 2020, Audience announced that it was changing its format and would no longer be filming its own series. So the fate of a possible new season of Mr. Mercedes is still not clear.
Three seasons of the series are based on Stephen King's trilogy about Bill Hodges's investigations, and, interestingly, the second season follows the plot of the third novel in the series, End of Watch, and the third season is based on the second book, Finders Keepers. By the way, Stephen King himself appears in the sixth episode of the first season in the guise of a catering worker.
Initially, Anton Yelchin was supposed to play the role of the killer Mister Mercedes, but after the tragic death of the young actor, Harry Treadaway took his place. By the way, Harry would no longer appear in the third season. His new role is the Romulan Narek in the sci-fi series Star Trek: Picard.
Information
This is an American crime thriller TV-series based on Stephen King's novel series.
The premiere of the third season took place on September 10, 2019, on Audience.
More Like This
The Outsider
Castle Rock
11.22.63
Tags: drama, crime, thriller, murder, investigation, detective, Stephen King, Brendan Gleeson