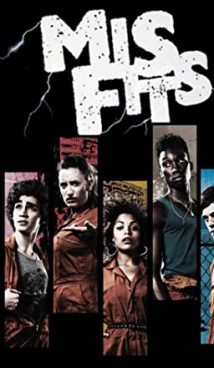 TV-MA
01 hours 00 minutes
Synopsis
Five people with not very decent behavior ended up in correctional labor. While they don't like scrubbing graffiti and dirt off the walls of the community center, they have no other choice. At some point, a strange thunderstorm happened during which each of the five intruders was struck by lightning. Recovered, the main characters of the TV show no longer feel the same as before. Each of them gained some kind of superpower – from reading minds and the ability to become invisible to managing the time.
That thunderstorm was the beginning of a whole chain of events, each more incredible than the last. Having begun to accept new themselves, the main characters realize that some other residents of the city have also received superpowers.
Interesting Facts
The pilot episode of the TV series was released on November 12, 2009 on the UK TV channel "E4". Airing over five seasons, the TV show was canceled on December 11, 2013.
Although Howard Overman, the creator of the TV show, had a complete storyline, he allowed the lead actors to discuss their characters and even change their lines.
In 2016, it became known that the American channel "Freeform" began developing a remake of "Misfits" for the US audience. Although the cast had already been selected, the project was canceled during the filming of the pilot episode.
About
Misfits is a British-produced fantasy-tragicomedy television series. The first season of the TV show was premiered on November 12, 2009 on the E4 TV channel.
Related Shows
Skins
Utopia
Brassic
Preacher
The Umbrella Academy
The End of the F***ing World
Tags: fantasy, drama, black comedy, teens, superpowers, Britain