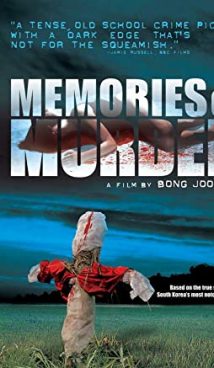 Not Rated
02 hours 12 minutes
Synopsis
South Korea, 1986. A quiet rural town of Hwaseong is deeply shaken after two women are found raped and murdered. Working on the case are two local detectives Park Doo-Man and Cho Yong-koo, inept and violent provincial cops who would rather beat out the confession than conduct a careful investigation. Things do not go better even with the arrival of a more experienced cop from Seoul. Worse yet, the big-city detective follows in the footsteps of the country cops, resorting to the same brutal tactics.
Did you know?
Bong Joon Ho — the director of Memories of Murder — won four Oscars in 2020, tying the record set by Walt Disney in 1954 for most Oscars in one night.
Interestingly enough, Bong Joon Ho's Snowpiercer he directed in 2013 was adapted into the eponymous American TV series currently aired in the USA. Bong Joon Ho also worked on Snowpiercer TV series, but this time as a producer.
Memories of Murder is based on real-life events. Hwaseong serial killer murdered more than 10 people, and his story inspired three films in South Korea, not to mention Memories of Murder.
The Hwaseong killer's identity remained unknown until 2019.
Overview
Memories of Murder is a South Korean crime drama film inspired by true events. It premiered in South Korea on May 2, 2003.
Please visit our website to watch Memories of Murder trailer online and check out interesting film trivia and a release date. No signup required.
 Frequently asked questions
When did the film have its world premiere?
Memories of Murder — one of Bong Joon Ho's early directing works — was released in South Korea on May 2, 2003. In other countries, the film was screened as a part of various film festivals.
Memories of Murder was well received by the critics. The film won more than 20 awards at various film festivals and ranked #181 in the IMDB's Top Rated Films.
See also