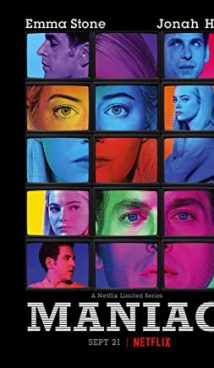 Synopsis
Imagine a world that is very, very similar to ours. A large pharmaceutical company is developing a new drug that, according to the ​​chemists, can cure any person from mental illness.
The time of the final testing is approaching, and the company announces the recruitment of volunteers.
In a room isolated from the outside world, several test subjects meet, including Owen, who suffers from schizophrenia, and the drug addict Annie, who was tricked into testing. The new drug seems to be working, but can it cure loneliness and guilt?
Interesting Facts
The complete season of Maniac was released on September 21, 2018, on the Netflix streaming platform. Maniac is a mini-series that does not require a sequel.
Maniac is based on the 2014 Norwegian TV-series of the same name. However, the authors of the American version have significantly expanded the universe of the series, made the plot more complicated, and enriched the visuals.
Maniac has two showrunners. One of them is Cary Fukunaga, the author of the famous True Detective. The other one is Patrick Somerville, who, a few years ago, presented there a magnificent TV-series called The Leftovers. Patrick is currently working on a new series, Station Eleven, about survivors of a monstrous flu epidemic.
Information
This is an American fiction tragicomedy TV-series based on the Norwegian 2014 series of the same name.
The premiere of the first season took place on September 21, 2018 on Netflix.
More Like This
Russian Doll
Devs
Living with Yourself
The OA
The Leftovers
Tags: fiction, parallel universe, drama, fantasy, drug tests, Emma Stone, Jonah Hill, Cary Fukunaga