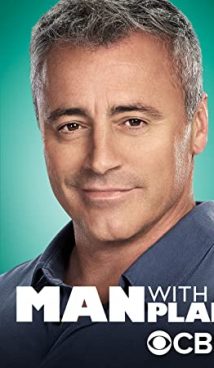 Synopsis
This is the final chapter of family story of grownup Joe from Friends.
Adam Burns (Matt LeBlanc), the main character of the Man with a Plan series, is a proud father of three kids and a co-owner of a small firm. And, as if that wasn't bad enough, his wife Andi changed her mind to stay at home with the kids and decided to turn up to her work delegating multiplicity of duties to Adam. Initially, he says that it is very easy to do the housework, but shortly afterwards he walks back! Adam scrambles between his job, home and kinder garden without stop, but the worst is ahead!
Man with a Plan is a quite standard sitcom with canned laughter. The main characters overact, decorations are hardly changed, but despite that the series is loved by many viewers. Unfortunately, the fifth season will not be renewed by decision of the studio bosses.
Interesting facts
If you miss the actors of Friends, you may watch The Odd Couple. Matthew Perry tries to get along with quite boring friend in this series. Moreover, Netflix broadcasted Space Force comedy series with always eccentric Lisa Kudrow on May 31, 2020.
Jackie and Jeff Filgo, a married couple, are the creators of the show. Probably, their own family life inspired them to create the series produced by them. Their service record includes family sitcoms only.
Information
The American-made TV series is shot in the comedy genre.
The fourth season premiered on April 2, 2020 on CBS American TV channel.
FAQ
What channel is producing the series?
All four seasons of Man with a Plan were shot by order of CBS channel.
In May 2020, CBS channel officially stopped broadcasting Man with a Plan after four seasons.
Related Series
Broke
Episodes
Friends
The Odd Couple