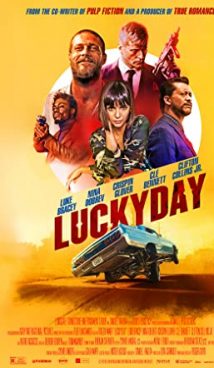 Synopsis
Director Roger Avary — who won the Oscar for his Pulp Fiction screenplay in 1995 — is back with his latest crime comedy film Lucky Day. A safecracker Red (Luke Bracey) is fresh off two-year stint in prison. He rejoins his wife Chloe (Nina Dobrev) and vows to go straight. Meanwhile, a psychopathic hitman Luc (Crispin Glover) is also back to town, seeking to avenge the death of his brother. Red and Chloe find themselves at the tail end of Luc's hunt and have to run for their lives. Get ready for high-adrenaline action and laughter-packed scenes as Red and Chloe tries to take down the mysterious bounty hunter.
Did you know?
One of the film scenes features Mark Dacascos, an action film star who peaked in the '90s.
Apart from Pulp Fiction, director Roger Avary also wrote screenplays for the iconic Reservoir Dogs and True Romance.
In 1993, Roger Avary directed Killing Zoe and have been planning to make a sequel since then. Well, Lucky Day is a sort of Killing Zoe spin-off.
Overview
Lucky Day is a French-Canadian co-production crime comedy film. It premiered in France on September 18, 2019.
Please visit our website to watch Lucky Day trailer online and check out interesting film trivia and a release date. No signup required.
Frequently asked questions
When did the film have its world premiere?
Lucky Day was screened in France on September 18, 2019, while in the US and UK it headed straight to streaming services.
Where was Lucky Day shot?
All scenes of the film were shot in Ontario, Canada.
See also
Killing Zoe
True Romance
The Informer