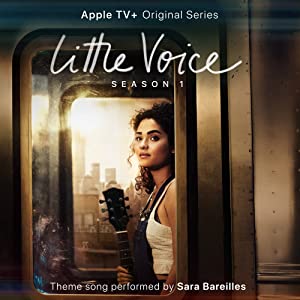 Synopsis
The Apple TV Plus streaming platform is still trying to get new subscribers and with this new series, it is entering the territory of musical melodrama.
Young and beautiful Bess is a talented singer who is just at the beginning of her career. She works wherever she can, devoting all her free time to songwriting and trying to find her path. She discovers a big world around her and tells about that in her work.
Bess will not only write many wonderful songs, but also find the voice in which she will tell about herself, her life, and the difficult but amazing world around us.
Interesting Facts
The series got its name after the most famous hit of American singer Sara Bareilles. The premiere of the single Little Voice took place in 2007. It became the singer's most popular song and served as inspiration for the series. It is also used as a title song. By the way, Sara Bareilles is the executive producer and Little Voice's composer.
Series creator Jesse Nelson is currently working on the sequel to the 2007 movie Enchanted, starring Amy Adams, in which the Disney cartoon princess gets to real New York.
The actress Brittany O'Grady, who portrays the main character, has already had an experience of working in a musical series: she starred in the TV-series Star about singing girls in Atlanta for three years.
Information
This is an American-made musical melodrama TV-series.
The premiere of the first season took place on July 10, 2020 on the Apple TV Plus streaming platform.
FAQ
What channel is behind the series production?
Little Voice was filmed for the Apple TV Plus service.
Will there be a continuation?
Producers have not yet given any information about possible continuation of this TV-series.
More Like This
Dickinson
Love Life
Trying