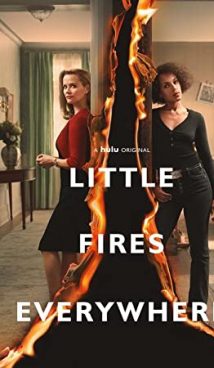 TV-MA
07 hours 43 minutes
Synopsis
The "Little Fires Everywhere" features Shaker Heights, a small town in Ohio. Elena (Reese Witherspoon), as a responsible and respected citizen, decides to help the newcomer Mia (Kerry Washington). Having rented out a small house to Mia and her daughter, Elena welcomes new residents of the city into her life. However, as it is about women with different outlooks on life, the dire consequences did not take long to appear.
Based on the novel of the same name, the series tells a very feminine story. "Little Fires Everywhere" makes us think not even about the problems of relationships between different social groups, but rather about accepting other points of view. Motherhood is another important theme of the TV show's plot. Being mothers, the main characters of the series have different ideas about maternal love for their children.
Interesting Facts
Liz Tiglaar, the "Little Fires Everywhere" showrunner, is also known for her other very feminine stories – "Revenge", "Nashville", "Astronaut Wives Club" and "Morning News".
Hello Sunshine, Reese Witherspoon's production company specializing in very feminine film and TV projects – "Wild", "Gone Girl", "Big Little Lies", and "Morning Show" – developed this television series.
Celeste Ign, author of the "Little Fires Everywhere" novel, has a cameo appearance as a book club member on the TV series.
About
The "Little Fires Everywhere" is a drama adaptation of the novel of the same name by Celeste Ing. The first season was premiered on March 18, 2020 on the American Hulu TV channel.
You can watch the trailer for the series on our website, no registration is required. You can also read interesting facts about the series and find out the release date.
F.A.Q.
Q: What channel is the show on?
A: "Little Fires Everywhere" was filmed for Hulu.
Q: When did the first season premiere?
A: The series aired from March 18 to April 22, 2020.
Q: Will the series be renewed?
A: The producers of the television series have not announced a renewal. Since the plot of the first season is fully consistent with the novel of the same name, it is unlikely that the series will be renewed.
Related Shows
Big Little Lies
Mrs America
The Handmaid's Tale
Morning Show
Tags: drama, feminine stories, film adaptation, xenophobia, social inequality, education