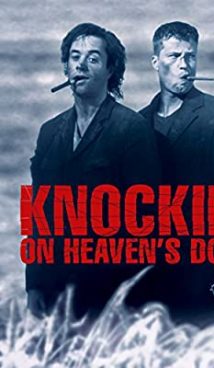 Not Rated
01 hours 27 minutes
Synopsis
Two completely different men met at the hospital. However, this meeting is not joyful, since both of them are in the oncology department with a diagnosis of inoperable cancer. Unwilling to lie and just wait for the hour of death, they talk to each other. One of them admitted that he had never seen the sea. Perceiving this as the dying wish of his roommate, Martin took Rudi and went with him to the coast in a luxurious Mercedes-Benz. With each kilometer in the direction of the sea, the newly-minted friends are getting more and more involved in a criminal story – however, with the remaining few days of their lives and many dying wishes, they have nothing to lose.
Interesting Facts
The "Knocking on Heaven's Door" movie premiered in Germany on February 20, 1997.
Til Schweiger, the lead role performer, is also the film's producer and co-writer.
Notably, the Japanese remake of the film was released in 2009 under the title "Heaven's Door", an abbreviated version of the original title. A young man and a 14-year-old girl are the main characters in the Japanese version of the film.
"Knocking on Heaven's Door" is director Thomas Jahn's feature-length debut. Having managed to repeat the success of that film, he is now focused on the production of German television series.
About
Knocking on Heaven's Door is a German-made crime tragicomedy film. The movie premiered on February 20, 1997.
Related Films
Barfuss
Rabbit Without Ears
The Experiment (Das Experiment)
The Lost Samaritan
Tags: drama, comedy, tragicomedy, crime, Germany, terminally ill, dream, Til Schweiger