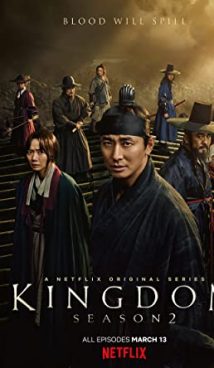 Synopsis
At the time of the first season, the Korean series Kingdom was the dark horse of Netflix streaming service. It would seem that the history of the zombie virus outbreak in medieval Korea is not the most intriguing topic. However, in the end, the audience got an incredibly beautiful performance.
The series carefully reconstructs the atmosphere of the Joseon State (which was located on the territory of the modern Korean peninsula) after the invasion of Japanese troops in the late 16th century. At some point the series reaches the brutality of the Game of Thrones showing the split of society, corrupted authorities and squabble for the throne. The authors add only one fantastic element: the invasion of the living dead. The word "zombie", needless to say, no one pronounces.
In addition to all the charms of the series, we can see here what we love Asian cinema for, that is a special pace, unusual plot moves and impeccably beautiful landscapes.
 Interesting facts
Kingdom is an example of Netflix' new policy when a company does not purchase the rights to adapt and re-shoot non-American TV series, but finances their production in other countries officially replenishing its library with original and non-English projects.
The series is based on the Korean webcomics named The Kingdom of the Gods.
According to Netflix, the budget of each series of the second season was about two million dollars.
ActressBae Doo-na (Seo-Bi, a nurse) is well known to the European audience. She is the favorite with the Wachowski sisters, the directors. Bae Doo-na appeared in Cloud Atlas and Jupiter Ascending films and Sense8
 Information
The TV series of South Korean production is based on the comic strip The Kingdom of the Gods and shot in the pseudo-historical fiction genre.
The second season premiered on March 13, 2020 on the Netflix platform.
You can watch the series trailer online on the website without registration.
 FAQ
What channel is producing the series?
Both seasons are available on the Netflix streaming platform.
When did the second season come out in Russia?
The entire second season is available from March 13, 2020.
A possible third season has not yet been reported, but the plot suggests a continuation.
Tags: epidemic, zombies, the Middle Ages, Korea, battle for power, horrors, battles