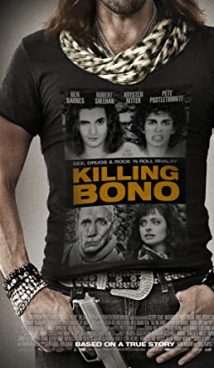 Synopsis
Brothers Ivan and Neil McCormick are starting a rock band, but how can you be the main musician in Dublin when U2 is already there? The popularity of the band led by Bono has not yet reached planetary proportions, but few can compete with them in Ireland. While Neal comes up with unsuccessful options on how to get past the rivals, his brother Ivan is invited to be a guitarist in U2. What will Neal do to get out of the shadow?
Interesting Facts
Killing Bono premiere took place on April 1, 2011, in the UK and Ireland, and later the film was released worldwide.
Neil McCormick is a real person. In 2003, his autobiography Killing Bono: I Was Bono's Doppelganger saw the light of day, on which a musical comedy is based. In reality, everything was a little different from in the film: Bono even admired Nick, believing that his classmate would become a real rock star. Meanwhile, Nick McCormick became a writer and journalist who, among other things, was the editor and co-author of the book U2 by U2. This book has become a kind of autobiography of the great rock band's members. And the novel Killing Bono: I Was Bono's Doppelganger itself did not go unnoticed. Elton John himself called it 'the best book on the music business I've read.'
The role of Neil McCormick was played by a Britishman Ben Barnes, who by the beginning of filming Killing Bono was already an accomplished Hollywood actor. The viewers remembered him for two films about Narnia and yet another screen adaptation of The Portrait of Dorian Gray. Interestingly, both Ben Barnes and his Killing Bono colleague Krysten Ritter soon became part of the Defenders TV-series. Ritter played Jessica Jones, and Barnes played the villainous Jigsaw.
Information
This is a British-Irish musical comedy film based on the memoir of Neil McCormick.
The world premiere of Killing Bono took place on April 1, 2011.
More Like This
Moonwalkers
Driven
Martha – Meet Frank, Daniel and Laurence
Tags: music, Ireland, rock, concert, U2, rivalry, Ben Barnes