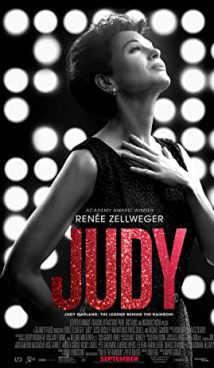 PG-13
01 hours 58 minutes
Synopsis
Aimed at all sorts of film awards, this biopic follows the hard life of Judy Garland, a great actress. After going through difficult trials, several marriages, an addiction to barbiturates, she performs in the UK. At one of her concerts, singing the "Over the Rainbow" song with all her might, she asks the audience to never forget her. Garland does not yet know that this performance will be one of the last in her life.
Interesting Facts
"Judy" was presented to the public on August 30, 2019 at the American Telluride Film Festival. The world premiere of the film took place on October 4, 2019. Following the digital release on January 1, 2020, the film is available for viewing on all major streaming platforms.
Renee Zellweger who plays the lead role of Judy Garland, received all the major film awards – Oscars, Golden Globes, BAFTAs, Critics' Choice, Hollywood Film Awards and Screen Actors Guild Awards. By the way, this is her second Oscar Award – the previous one she received in 2003 for the female supporting role in the "Cold Mountain" movie. In 2020, she vied for the prize with Charlize Theron, Scarlett Johansson and Saoirse Ronan, very strong contenders, and snatched the victory.
It is noteworthy that Renee Zellweger was born in the year Judy Garland died. A week before the film's US premiere, Renee released a cover album of Judy's songs, including the classic "Over the Rainbow".
Garland Liza Minnelli, Judy's daughter – played by Gemma-Lea Devereux – wrote on her Facebook page before the premiere of the film that she had never met Renee Zellweger, but she neither approves nor opposes the biopic about her legendary mother.
"Judy" was released 80 years after the premiere of "The Wizard of Oz", a motion picture that brought popularity to the actress.
About
Judy is an American/European co-production film based on the biographical drama play "Rainbow's End" by Peter Kuilter. The world premiere of Judy took place on August 30, 2019 at the Telluride Film Festival in Colorado, USA.
Related Films
Bombshell
The Iron Lady
Bohemian Rhapsody
Tags: biopic, Judy Garland, Renee Zellweger, singer, drama