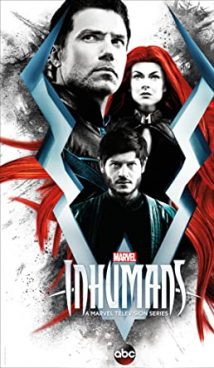 Synopsis
Imagine that there is a certain race of Inhumans with their own unique superpowers each – some are able to kill with their voice, some can regenerate, some command the elements, while some can control their own hair. So, we have something similar to the X-Men – however, without the drama of oppression of minorities. King Black Bolt and Queen Medusa are rulers in the land where Inhumans live. However, after the military coup, the former royal couple is forced to seek refuge on Earth, whose inhabitants they previously treated with disdain. Now, Black Bolt and Medusa – with the help of loyal confidants and new earthly friends – are fighting to return to their native Attilan.
Originally conceived as a blockbuster, the "Inhumans" TV series has become a highly ambitious project that Marvel, ABC and IMAX are collaborating on. Filmed with IMAX cameras, 8 episodes of the TV series are intended to be shown on specialized streaming platforms. However, this TV show was Marvel's first major flop in modern history. Failed to be a hybrid of TV show and blockbuster, "Inhumans" was coldly received by both audiences and critics.
Interesting Facts
The first two episodes of the TV series premiered at the Universal Studios Entertainment Center in Hollywood on 28 August 2017. A few days later, all episodes of the TV show were available for viewing in IMAX theaters around the world.
According to rumors, "Inhumans" is a project prepared by Marvel to replace the X-Men that the studio has not been able to return to its cinematic universe. However, after the failure of "Inhumans" and the conclusion of a grand deal between Disney and Fox, there was no need to promote a new race of superheroes. Since Wolverine, Magneto, Jean Gray and other characters are once again part of the MCU, it is highly doubtful that Marvel will return to the disastrous Black Bolt, Medusa and other Inhumans again.
About
The Inhumans is an American-made superhero fiction TV series based on Marvel comics. The first season of the TV show premiered on August 28, 2017 in Los Angeles.
Related Shows
Agents of S.H.I.E.L.D.
Agent Carter
Defenders
The Gifted
Runaways
Cloak & Dagger
Tags: superheroes, comic, fantasy, adventure, drama, marvel, superpowers