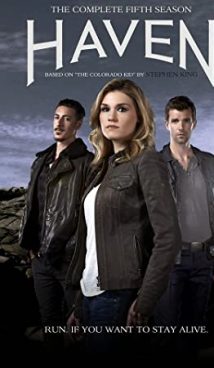 TV-PG
01 hours 00 minutes
Synopsis
Haven is a quiet town located on the shores of the Atlantic Ocean, in which – as it seems at first glance – a blessed and calm life flows. Audrey Parker, an FBI agent, comes here as part of the investigation of another criminal case. However, one thing soon emerges that affects even a seasoned agent. It turns out that the town is a haven for people with superpowers. Locals who use these superpowers for good and not, call them "The Troubles".
Eventually, Audrey decides to stay at Haven. After joining the local police, the woman helps residents cope with the out-of-control "Troubles". Local servant of the law Nathan Wuornos and smuggler Duke Crocker – both cute and overheated – help Audrey in this.
Interesting Facts
The TV series was premiered on July 9, 2010 on the American channel Syfy. Renewed several times, the TV show was canceled on December 17, 2015 with the final episode released under the "Forever" title.
Although the main action of the TV series takes place in New England (Maine), all scenes was filmed in the nearby Canadian province of Nova Scotia. The town of Lunenburg, where the "Locke and Key," a recent fantastic Netflix hit series, was also filmed, played the role of the city of Haven.
The "Haven" TV series was based on the novel "The Colorado Kid" by Stephen King. Notably, the TV show contains many references to other Horror King works including "It", "Maximum Overdrive" and "Christine". Notably, the city of Haven is mentioned in "The Tommyknockers", another novel by Stephen King.
About
Haven is an American-made fantasy thriller television series based on Stephen King's The Colorado Guy. The first season of the TV show was premiered on July 9, 2010 on Syfy TV channel.
Related Shows
Supernatural
Smallville
Warehouse 13
Continuum
The Mist
Tags: adventure, mystic, thriller, drama, fantasy, small town, superpowers