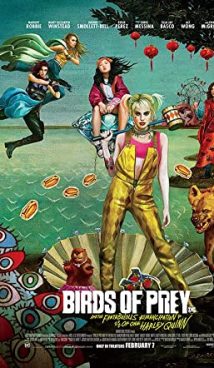 Synopsis
There is no rest in the life of the charismatic villainess Harley Quinn. After parting with Joker, she is not herself and plunges into one story more dangerous than another. Harley contacts several other strong, unusual women and confronts a villain named Roman Sionis, also known as Black Mask. But how can men's ambitions be stronger than girl power, especially if this motley ladies' company is headed by such a cute psychopath as Harley Quinn?
Did You Know?
Birds of Prey movie was presented to the public on January 25, 2020 in Mexico City, and was released a week later. The film premiered in the United States on February 6, 2020. From April 1, the movie could be officially viewed on streaming services.
After US premiere film producers quickly changed it's title to Harley Quinn: Birds of Prey. The reasons for this were low fees and discontent of the movie distributors. Meanwhile, the film recouped the distribution costs and the production budget, but still became the least grossing DC Extended Universe movie.
After the commercially successful Suicide Squad, where Margot Robbie was introduced to the public as Harley Quinn, several films with this villainess were announced at once. First, the producers were planning a movie about the relationship between Harley Quinn and Joker, played by Jared Leto. Secondly, it was planned to make a film based on the Gotham City Sirens comic arc about the adventures of a female team of villains. Also, the director of Birds of Prey Katie Yan said that she would make a film about the relationship between Harley Queen and Poison Ivy.
Due to the low fees of Birds of Prey, the fate of the spin-offs remains unknown. But DC Comics fans will be delighted to know that Margot Robbie's Harley Quinn will definitely be seen in 2021 movie called The Suicide Squad.
Information
American-made film based on the DC comic book series. The movie filmed in the genre of a comedy thriller. Birds of Prey world premiere took place on January 25, 2020.
More Like This
Suicide Squad
Guardians of the Galaxy
Wonder Woman
Tags: Comics, Harley Quinn, Girl Power, Comedy, Margot Robbie, Ewan McGregor