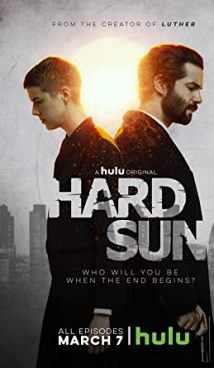 TV-MA
01 hours 00 minutes
Synopsis
Charlie Hicks (Jim Sturgess) and Elaine Renko (Agyness Deyn), two London police officers, once conducting their own investigation, learn that our planet will soon perish. Some cosmic phenomenon will destroy all life on Earth in just five years.
In order to avoid panic and anarchy, this information is carefully hidden by the Government from ordinary people. Now, in the footsteps of Charlie and Elaine, MI5 operatives are following.
So, an important dilemma was faced by the two police officers – to make a deal with the Government or to release the information they have?
Interesting Facts
The "Hard Sun" TV show is a joint product of the British TV channel BBC One and the American streaming platform Hulu. Premiered in the UK on January 6, 2018, the sci-fi thriller became available for watching to US viewers on March 7, 2018, 2 months later.
Neil Cross, who directed "Luther" featuring Idris Elba and "Crossbones" featuring John Malkovich, is the creator of "Hard Sun". It is noteworthy that Cross is also a writer. After "Luther" Season 1 was released, Neil wrote a novel based on the TV series. There is also "The Sister", a 4-part mini-series based on a novel by Neil Cross, premiered in 2020.
Having already prepared a story arc that would last until the very apocalypse, Neil Cross is ready to continue work on "Hard Sun", which he has already announced officially. However, determined that one season was enough for "Hard Sun", the BBC canceled the TV show.
About
Hard Sun is a British-American co-production fantasy thriller TV series. The first season of the TV show was released on 6 January 2018 on the UK's BBC One.
Related Shows
Luther
The sister
The City and the City
Collateral
Rellik
Tags: crime, detective, drama, fantasy, pre-apocalypse