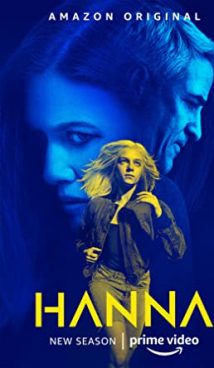 TV-MA
01 hours 00 minutes
Synopsis
Meet Hanna. At first look, she seems like a nice girl. But in reality, she is the product of the genetic experiments of the CIA, that are trying to create super-soldiers in an Eastern European secret research facility. Many years ago, a mercenary stole Hannah from the facility and raised her in the forests in Poland. Years later, we see Hannah as a killing machine, but at the same time, she is just a girl. She wants to know her origins, but she also wants a life without fighting, death, and murder. Will the CIA let Hannah forget her destiny?
Interesting Facts
– One of the episodes from the first season of "Hanna" was nominated for an Emmy Award for Best Cinematography.
– Actress Esme Creed-Miles, who is playing the leading role in the series, is not wasting her time and has already shot the short film "Jamie" herself, where she was not only a director but played the main role as well.
– Joel Kinnaman and Mireille Enos met in a fight in the first season. However, once they were partners — they investigated crimes in the American remake of the Scandinavian TV-series "The Killing," thanks to which they became famous.
– Dermot Mulroney is joining the cast as John Carmichael, a dangerous CIA operative, in the Season 2 of Hanna.
Information
This is an American action drama TV-series based on the movie of the same name by Joe Wright.
The premiere of the Season 2 took place on July 3, 2020 on the Amazon Prime platform.
FAQ
What channel is behind the TV-series production?
Both seasons of "Hanna" were filmed for Amazon streaming service.
Will there be a continuation?
The studio has not yet decided whether there will be a Season 3.
More Like This
The Killing
Warrior Nun
Jack Ryan