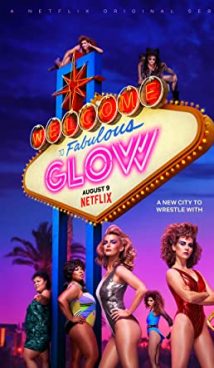 English, Spanish, Russian, Khmer

8.0
Synopsis
1985, Los Angeles. Not the most talented, but very proactive actress Ruth (Alison Brie) fails one audition after another. Somehow, she finds herself on a TV-show, the meaning of which is staged fights in the ring between very unusual women in tights.
So far, the show is not very popular, but little by little GLOW (that is its name) is gaining an audience. Ladies come up with fanciful images, sort things out, suffer, fall in love, and become close friends.
GLOW is, on the one hand, a very, very pro-women series but, on the other, is a very interesting TV-series, playing on numerous cliches of the 80s era and making viewers fall in love with it regardless of gender and age.
Interesting Facts
The first season of GLOW was released on June 23, 2017, on the Netflix streaming service. The high ratings ensured the second season, which came out a year later. The third season was released in the summer of 2019, after which Netflix extended the series for the final ten episodes. However, the coronavirus spoiled the ending: first, the shooting of the fourth season was frozen, and then Netflix canceled the continuation altogether. As a result, GLOW ended in the third season.
Actress Alison Brie, for the role of Ruth (or Zoe the Destroyer), was nominated for a Golden Globe two years in a row and both times lost to Rachel Brosnahan (The Marvelous Mrs. Maisel).
The TV-show GLOW was real. As in the TV-series, it started in 1985. One of the original members, Ursula Hayden, bought the company that owns the show in 2001. By the way, Ursula worked as a consultant for the series.
Information
This is an American sports tragicomedy TV-series.
The first season of GLOW premiered on June 23, 2017, on the Netflix streaming platform.
More Like This
Unbrerakable Kimmy Schmidt
Russian Doll
Community
Orange is the New Black
Tags: retro, the 1980s, TV-show, female wrestling, female characters, ring, staged fights