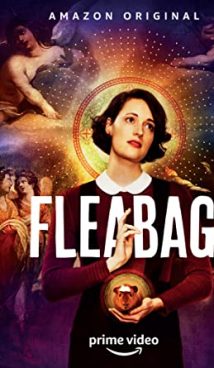 Synopsis
"Fleabag" is a British black comedy TV show featuring screenwriter Phoebe Waller-Bridge.  An unnamed girl from London tries to run her small business (eatery), swears with her sister, father and stepmother, loves sex of various forms and shares her cynical remarks with viewers, breaking the "fourth wall" without any effort. It is obvious that vulnerability is behind cynicism, and frankness serves as a screen for hiding the problems of communication with other people. However, Phoebe Waller-Bridge, the creator of "Fleabag", does not want to make her character a damned wretch or a victim at all – the London girl looks like a real person with her strengths and weaknesses. A completely living character, Fleabag is still too witty for our time.
Interesting Facts
The pilot episode of the "Fleabag" premiered on July 21, 2016 on BBC Three and Amazon Prime streaming platform. Critically acclaimed, the TV show was renewed for a second season, further cementing its success. After the final episode of Season 2 was released, Phoebe Waller-Bridge officially announced that she was not planning a continuation of the TV show as she did not see any further avenues for the development of its plot.
Meanwhile, Waller-Bridge has several other projects that she continues to work on, including "Killing Eve", another iconic TV show that tells the story of the rocky relationship between a hit woman and a British agent. Waller-Bridge also wrote "No Time To Die", the 25th film in the 007 movie franchise. It is curious that the screenwriter was invited by Daniel Craig himself for the talented girl to edit the script and add a little humor.
"Fleabag" TV series is based on a one-woman comedy directed by Phoebe Waller-Bridge and presented in 2013. Notably, 'Fleabag' is the screenwriter's home nickname.
Fleabag has won two Golden Globe Awards for Comedy Series and Best Actress and six Emmy Awards.
About
Fleabag is a British-made tragicomedy TV series. The first season of the TV show premiered on July 21, 2016 on British BBC Three and American Amazon Prime.
Related Shows
Killing Eve
The Marvelous Mrs. Maisel
Crashing
Sherlock
Tags: drama, comedy, tragicomedy, London, Phoebe Waller-Bridge