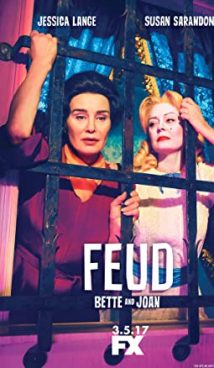 Synopsis
This is another series by Ryan Murphy but now based on real-life events.
At the center of the Feud is the highly complex relationship between two great Hollywood actresses, Joan Crawford and Bette Davis. Starting on the set of What Happened to Baby Jane? in 1962, the conflict between Hollywood stars flared up and then faded over the years.
Interesting Facts
The first episode of Feud was shown on March 5, 2017, on the American TV channel FX.
Even before the release of the first season, it became known that Feud would be continued. The second season was supposed to be called Buckingham Palace and tell about the conflict between Prince Charles and Princess Diana. Matthew Goode and Rosamund Pike took the leading roles, but in the end, the creators did not like the script, and now the further fate of the series is in question. Ryan Murphy currently has lots of work under his contracts with Netflix but hopes to shoot the second season of Feud.
The Feud writer Ryan Murphy started writing the plot for the series seven years before filming began. From the beginning, Murphy knew that Jessica Lange and Susan Sarandon would star in the lead roles.
Also, Murphy had no doubts about who will play another Oscar winner Olivia de Havilland. He personally invited Catherine Zeta-Jones to play this role. Katherine agreed but decided not to meet in person with Olivia (she was a hundred years old at that time). Instead, she asked her father-in-law Kirk Douglas about what the characters of the series were like in real life.
Information
This is an American biographical drama TV-series.
The premiere of the first season of Feud took place on March 5, 2017, on the FX TV channel.
More Like This
American Crime Story
Pose
Ratched
Hollywood
Tags: history, Hollywood, actress, cinematography, biography, based on real-life events, Ryan Murphy, Jessica Lange, Susan Sarandon, Stanley Tucci