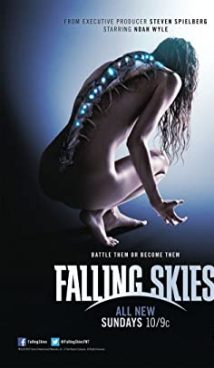 Synopsis
"Falling Skies" TV series shows the Earth after an alien invasion that took place six months ago, when arachnid aliens destroyed all communications, armies and major cities on our planet. Only every tenth inhabitant of the Earth was able to survive. The people stray into groups that are hunted by deadly robots.
The aliens invaded not only to steal resources, but also to enslave humanity. For this purpose, they kidnap children and adolescents and implant special controllers in them. Tom Mason, a former military-history professor at Boston University and now a rebel, is the main character on the TV show. Tom's wife died during the invasion, and his son was kidnapped by aliens. Mason has to go a long road of hardship and overcoming, in order to eventually not save only his son, but also whole of humanity.
Interesting Facts
A pilot episode of the TV show premiered on June 19, 2011 on the American channel TNT. Airing over five seasons, the TV series was canceled on August 30, 2015.
Steven Spielberg, known for his work not only on blockbusters, but also on TV shows, is one of the executive producers of "Falling Skies". The war drama TV show "Masters of the Air" will be Spielberg's next multi-part production project. This TV show, commissioned by Apple TV+, will begin filming in spring 2021 with Carey Fukunaga, who plans to direct several its episodes.
To reproduce the sound of the running aliens, the same effects were used as for the raptors from "Jurassic Park".
About
Falling Skies is an American-made fantasy thriller TV series. The first season of the TV show was premiered on June 19, 2011 on TNT TV channel.
Related Shows
Colony
V
4400
Continuum
Revolution
Defiance
Tags: drama, science fiction, adventure, drama, post-apocalypse, aliens, invasion, thriller