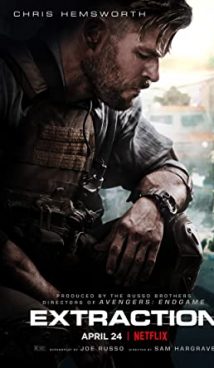 English, Hindi, Bengali

6.7
Synopsis
Plot
"Extraction" is another Netflix's attempt to show the world that they can make action movies. The title character of the film, played by Chris Hemsworth, is hired to free the son of an Indian drug lord who is being held hostage by a Bangladeshi drug lord. The endless stream of violence and blood on the streets of the Hindustan cities is the reason you might need to watch this movie, having stopped any brain function beforehand.
Interesting Facts
– The Russo brothers are responsible for this movie creation. They brought the Marvel Cinematic Universe to its financial climax and directed four parts of the most expensive epic saga. However, they have received an Emmy for the comedy series "Arrested Development." By the way, the Russo brothers are not only the Extraction producers, but they also have co-written the graphic novel on which the movie is based.
– The Russo brothers are not the only people that connect "Extraction" with the MCU. Actor Chris Hemsworth became famous for his role as the superhero Thor. And David Harbor is about to join the team with the "Black Widow" premiere, where he portrayed a character named Red Guardian.
– Despite the mixed reviews it received, "Extraction" did not go unnoticed.
It became one of the most popular independent movies made by Netflix. In the first month, over 90 million subscribers watched the movie. Now the service is planning a sequel, which could become a prequel.
– Initially, Ilya Naishuller, the Russian director known for the "Hardcore Henry" movie, was supposed to direct Extraction. He turned down the job at the last moment because he thought his projects were more important.
Information
This is an American-made action drama based on the graphic novel.
The world premiere took place on April 24, 2020
FAQ
– Where can I watch "Extraction"?
The movie is available for all Netflix subscribers.
More Like This
Gemini Man
Polar
Atomic Blonde