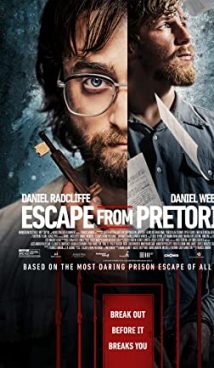 PG-13
01 hours 46 minutes
Synopsis
Escape from Pretoria is a prison-break drama inspired by true events that took place in South Africa in 1979. Two white anti-apartheid activists — Tim Jenkin (Daniel Radcliffe) and Stephen Lee (Daniel Webber) — are put behind bars for spreading banned leaflets. Stephen is sentenced to eight years while Tim gets 12 years in jail. The prison they end up in is a living hell, with the guards abusing and harassing them all along the way. The fellow freedom fighters plot an escape from Pretoria notoriously known for its impenetrable walls.
 Did you know?
Real-life escapee Tim Jenkin (portrayed by Daniel Radcliffe) wrote a book about his escape from Pretoria, and this is where the inspiration for Escape from Pretoria came from. Jenkin also played a prisoner next to Radcliffe in the Pretoria's visiting room.
Daniel Radcliffe worked hand in hand with his co-star Ian Hart in Harry Potter and the Philosopher's Stone. Hart portrayed Professor Quirinus Quirrell while Radcliffe's role needs no introduction.
Escape from Pretoria release marked exactly 40 years since Tim Jenkin's audacious escape.
Overview
Escape from Pretoria is a British-Australian co-production thriller based on a real-life story. It premiered at the Glasgow Film Festival on February 29, 2020. It was released worldwide one week later, on March 6. Please visit our website to watch Escape from Pretoria trailer online and check out interesting film trivia and a release date. No signup required.
Frequently asked questions
When did the film have its world premiere?
Escape from Pretoria was released in the US and UK on March 6, 2020.
Where was Escape from Pretoria shot?
All scenes of the film were shot in Australia in 2019.
See also
Guns Akimbo
Richard Jewell
The Shawshank Redemption