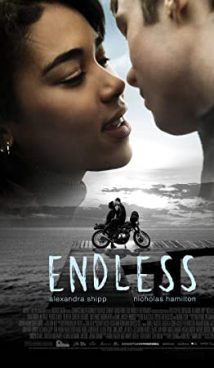 Synopsis
High school graduates Riley (Alexandra Shipp) and Chris (Nicholas Hamilton) are madly in love, and the life seems like a bowl of cherries — beautiful and endless. But a tragic car accident casts a long shadow on the story of young love. Chris ends up in a coma while Riley is haunted by a terrible guilt of driving that car. Suddenly, Chris wakes up only to find out he is now an ethereal spirit that no one can hear. He has to find a way to tell Riley he loves her. To do that, he teams up with another ghost Jordan who is also stranded in limbo.
Did you know?
Alexandra Shipp, who starred in Endless, is known for her role as a mutant Storm in the X-Men Remarkably, Endless features famous Famke Janssen who was also a part of X-Men superhero team.
Nicholas Hamilton (Chris) is most commonly known for his roles in It and It Chapter Two where he portrayed a very nasty school bully.
Overview
Endless is an American sci-fi romance film. It has not been premiered yet due to COVID-19 pandemic.
 Questions and answers
All scenes of Endless were shot in British Columbia, Canada. In fact, it often serves as a primary filming location for low-budget American movies and TV series.
 See also
The Lovely Bones
Every Day
The Sixth Sense