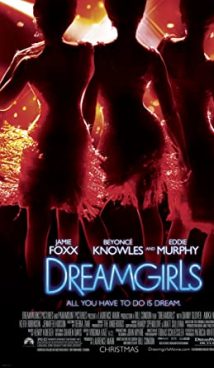 PG-13
02 hours 10 minutes
Synopsis
One day, car salesman Curtis sees a trio of beautiful black girls on the stage of a young talent competition and decides to become their music producer. He completely changes his career, founds a music label, and leads the trio to success. Girls become real stars, and the record company becomes a trendsetter in music around the world.
Interesting Facts
Dreamgirls was presented to the public in December 2006 at the Ziegfeld Theater in New York and was released worldwide during the Christmas holidays.
The plot of the film is based on The Supremes' story that is one of the most successful female music bands in history. Beyoncé's Dina Jones is based on Diana Ross, while music producer Curtis is based on Berry Gordy Jr., founder of Motown Records.
Dreamgirls was directed by Bill Condon, who then directed the last two films of the Twilight saga and a screen adaptation of the Disney cartoon Beauty and the Beast. In 2019, Condon's thriller The Good Liar came out, about the middle-aged womanizer Ian McKellen trying to screw out of money the widow Helen Mirren.
It is interesting that, even though the main star of the female cast was undoubtedly Beyoncé, it was Jennifer Hudson, for whom Dreamgirls became a film debut, received all the awards. The viewers found out about Hudson two years before the film's premiere when the girl took seventh place in the third season of the American Idol talent show. However, 2006 was a triumphant year for Jennifer because she got an Oscar, Golden Globe, and BAFTA for her role in Dreamgirls. Then she received a Grammy for her debut album. In 2021, a new musical film Respect will be released in which Hudson will play Aretha Franklin.
The role of the third girl from the music band was played by Anika Noni Rose, who, three years after the premiere of the film, will voice Tiana from the Disney cartoon The Princess and the Frog.
Information
This is an American musical drama film based on the Broadway musical of the same name.
The world premiere of Dreamgirls took place on December 15, 2006.
More Like This
Cadillac Records
Burlesque
Ray
Tags: music, drama, based on a true story, Beyonce, Jamie Foxx, Eddie Murphy