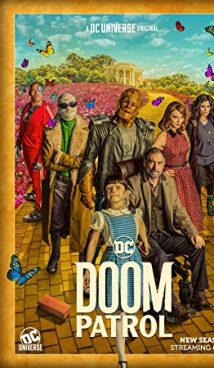 TV-MA
01 hours 00 minutes
Synopsis
Meet! We have, perhaps, the strangest superhero team in this multiverse under the "Doom Patrol" ironic title (this squad is generally doing well with irony). Doom Patrol includes Robotman with a brain transplanted into a mechanical body after a horrific car accident; the Negative Man is able to release energy from his disfigured body; the Elasti-Girl able to change the size of her body; the Crazy Jane is the seat of 64 individuals and Cyborg is half-human-half-robot. All this motley company assists the great scientist, swears a lot and sometimes performs feats.
Interesting Facts
Technically, "Doom Patrol" takes place in the DC multiverse, in a part called Earth-21, while major series such as "The Flash", "Arrow", "Black Lightning" and "Batwoman" refer to Earth-Prime.
The first episode of the "Doom Patrol" Season 2 aired on June 25, 2020 on DC Universe. Initially, the season included ten episodes, but due to the coronavirus epidemic, the final episode was not filmed. It is assumed that the tenth episode will be moved to the new season.
"Doom Patrol" was originally conceived as a spin-off for "Titans", another series about a superhero team. The members of "Doom Patrol" first appeared in the fourth episode of the "Titans" Season 1, and a year later their own TV show premiered.
Since the Robotman and the Negative Man's faces are not shown, they are played and voiced by different actors. Viewers can see Brendan Fraser and Matt Bomer only in flashbacks.
Dorothy Spinner, the Chief's daughter, joins a team of unusual characters in the new season. Dorothy's unique ability is to transform her imaginary friends into real creatures.
About
Doom Patrol is an American-made television series based on DC comics in the fantasy comedy genre. The second season was premiered on June 25, 2020 on DC Universe.
Related Shows
Titans
Legends of Tomorrow
The Flash
Arrow
The Umbrella Academy
Tags: superheroes, supervillains, postmodern, breaking the fourth wall