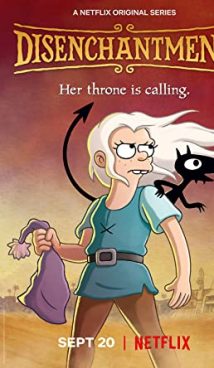 Synopsis
Tiabeanie, the main character in "Disenchantment" animated series, is a princess. Keeping in mind that the creator of this series is Matt Groening himself (the author of "The Simpsons" and "Futurama", cult animated series), it becomes clear that this character is unlikely to resemble a Disney princess. And it really is – Tiabeanie drinks a lot, does not fall in love, does not suffer for princes and is friends with the infantile half-elf Elfo and the demon Luci. So, a lot of adventures await Tiabeanie.
After the events of Season 2, Tiabeanie is on the run. Accused of attempting to kill her own father, the princess hides from Queen Dagmar, her distraught mother, who follows in her footsteps.
Undoubtedly, Tiabeanie and her friends will be able to find a way out of this strange situation. At the same time, all these adventures will be accompanied by hekaliters of alcohol and jokes of varying degrees of obscenity.
Interesting Facts
"Disenchantment" Season 3 released on January 15, 2021 on the Netflix streaming platform. All previous episodes of the TV show are now available to watch on Netflix.
Since Netflix orders the development of 20-episode seasons, dividing them into two parts, there may be confusion with the numbering of seasons. So, the new season premiered in January can be considered both Season 3 and the second half of Season 2.
Notably, the 32nd season of "The Simpsons", the older brother of "Disenchantment", premiered in September 2020.
About
Disenchantment is an American-made fantasy comedy animated series. The third season of the TV show will premiere on January 15, 2021 on the Netflix streaming service.
Related Shows
The Simpsons
Futurama
Final Space
BoJack Horseman
Tags: animated series, fantasy, comedy, satire, adventure, Matt Groening