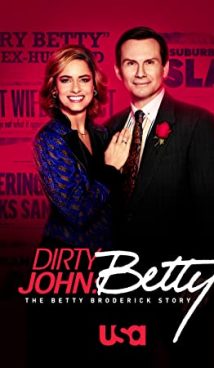 Synopsis
This is a continuation of the criminal anthology about bad guys. If the first season of Dirty John told us a story about a nice rich woman Debra, who fell victim to a crook, now we have a real family drama.
Betty (Amanda Peet) and Dan (Christian Slater) are a married couple living in California. However, everything changes when Dan is transferred to a new job in San Diego. The husband meets a woman there, it leads to the most tragic consequences, and the family drama becomes a crime thriller.
Interesting Facts
The first season of Dirty John was based on a true story told in the podcast. It is completely real, and there is a documentary about the swindler John Meehan right after the finale. By the way, actress Connie Britton, who starred in the first season of Dirty John and was nominated for a Golden Globe for it, remained the anthology producer.
Christian Slater continues his triumphal march across the small screens. After the finale of the IT-thriller Mr. Robot and Dirty John, we will soon see him in the series Dr. Death about a mad neurosurgeon. Jamie Dornan and Alec Baldwin will keep Slater company there.
The real Betty Broderick is now in jail in California and will not leave it until 2032.
Information
This is an American-made criminal drama TV-series based on the real-life events.
The premiere of the second season took place on June 2, 2020 on the USA Network channel.
FAQ
What channel is behind the series production?
Unlike the first season that was filmed for the Bravo TV-network, the second season was filmed for the USA Network channel.
Will there be a continuation?
The showrunners have not said a word about possible continuation yet.
More Like This
Dead to Me
Why Women Kill
American Crime Story
Unbelievable