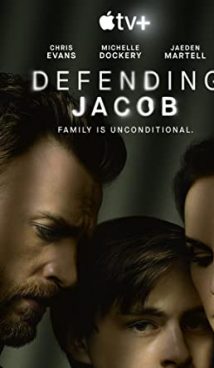 TV-MA
06 hours 42 minutes
Synopsis
Fascinating thriller full of cliffhanger and asking questions of family values.
Boston County attorney assistant Andy Barber has a wonderful life. He lives in a beautiful house, has an expensive car, a beautiful wife, son Jacob and a favorite job. However, everything changes when a teenager is killed in one of Boston's parks, and Andy's son becomes the main suspected. All evidence points to Jacob's guilt. Andy is doing everything he can to protect his son, but his wife, Laurie, begins to wonder: what if she raised a sociopath?
 Interesting facts
All eight episodes of the series were staged by the Norwegian Morten Tyldum, who had previously directed such films as Passengers and The Imitation Game.
This is Chris Evans' first role in the TV series for the last twenty years. According to him, over the years that he spent being a part of the Marvel Cinema Universe, he was tired of blockbusters. By the way, he appeared in eleven films in the role of Captain America.
Since Defending Jacob series was shot for the Apple TV Plus platform, the Android smartphone appears in the series once, and it belongs to the pedophile.
 Information
The American-made TV series is based on the similarly-named novel by William Landay and shot in the detective drama genre.
The first season premiered on April 24, 2020 on the Apple TV Plus platform.
You can watch the series trailer online on the website without registration.
 FAQ
What channel is producing the series?
Defending Jacob was commissioned by the Apple TV Plus streaming platform.
When did the first season come out in Russia?
The first series premiered on April 24, 2020. The broadcast of the first season ended on May 29, 2020.
Defending Jacob was conceived as a mini-series, so a sequel is unlikely.
Tags: detective, family drama, suspected, murder