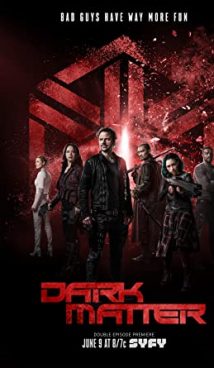 Synopsis
The Raza spacecraft drifts across the endless expanses of space. Since all the crew members are in a state of suspended animation, calm and silence reigns on board. However, the depressurization happened on Raza. Emerging from the state of suspended animation at some point, people do not remember their names or how they got on the spacecraft. Calling each other ordinal numbers, the six crew members try to figure out who they are. However, the truth can be quite frightening.
Interesting Facts
The "Dark Matter" TV show began streaming on June 12, 2015 on Canadian Space and US Syfy. The finale of the 13-episode first season was followed by Season 2. Also renewed for a third season – which is the final – the TV show was canceled on 25 August 2017.
The series shows the events taking place in the 27th century.
Melissa O'Neill (Second), co-star, is also known as the winner of the Canadian Idol talent show. She is currently starring in "The Rookie," a police comedy tragicomedy TV series whose Season 3 premiered in January 2021.
"Black Matter" is a TV series based on a series of graphic novels by Joseph Mallozzi and Paul Mullie who are the showrunners of the project. All four "Black Matter" comic books were released in 2012. Notably, Mallozzi and Mullie have also worked on several TV shows for the "Stargate" franchise.
About
Dark Matter is a Canadian-made TV series based on the fantasy thriller comic series of the same name. The first season of the TV show was premiered on June 12, 2015 on Space TV channel.
Related Shows
Killjoys
Falling Skies
Continuum
Defiance
Revolution
Stargate SG-1
Tags: science fiction, space, drama, detective, adventure