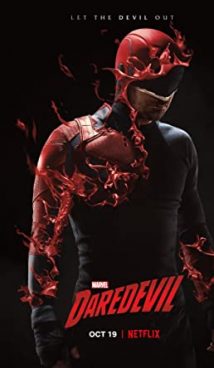 Synopsis
Marvel and Netflix present a very unusual superhero. By day, Matt Murdock is not the most prosperous lawyer who opens a small law company with his friend Foggy Nelson. At night, Matt changes into a latex suit and goes to the dark streets of New York to bring justice with his fists. It would seem like an ordinary comic book character, but no, Murdoch is a very unusual hero. He is blind. As a child, Matt lost his sight, but (in a fantastic way, of course) developed other senses and became a master in martial arts. The main enemy of Daredevil is the criminal tycoon Wilson Fisk (aka Kingpin), whose role was superbly played by Vincent D'Onofrio
Interesting Facts
All episodes of the first season of Daredevil were released on the same day, April 10, 2015. The TV-series became a real sensation, and, a week after the premiere, it was renewed for the second season, which was released a year later. The third season came out in 2018, and that's where the series ended.
One of the reasons for the closure of Daredevil is the desire of Marvel and Disney to shoot new TV-series closely related to the MCU. No one knows yet if the character of Daredevil (as well as other heroes of the series associated with him) will return, but fans are still petitioning to film studios asking them to return Charlie Cox to the lead role.
The TV-series was one of the first representatives of a new format when the entire season becomes available at once. The practice, of course, did not start with Daredevil but the series has contributed to the popularization of this format.
The series has become part of a small television universe, which also includes the TV-series Jessica Jones, Luke Cage, Iron Fist, The Punisher, and the crossover Defenders.
Information
This is an American crime thriller TV-series based on Marvel comics.
The premiere of the first season took place on April 10, 2015, on the Netflix streaming service.
More Like This
Jessica Jones
Luke Cage
Iron Fist
Defenders
The Punisher
Tags: comic, drama, action, blind, thriller, New York, Marvel